The Political Science Department has four full-time academic advisers as well as an undergraduate staff coordinator. Our academic advisors are located in 201 Pond Lab.
Undergraduate Program Assistant
I have been the undergraduate program assistant for the Department of Political Science since 2006. I thoroughly enjoy working with students in this position. I enjoy the newness each semester brings, and I love meeting new students and getting to know them! I find great joy in seeing students work through their degrees and meet the huge accomplishment of commencement after their years here. In my position, I interact with faculty as well as students and work closely with the advising team.
I love following Penn State sports, love the campus feel. I love traveling, camping, the beach, love all activities in the snow and love watching my children play sports and be involved in activities! I have two kiddos who both say they want to attend Penn State!!!
I hope you make the most while at Penn State and make lasting memories… WE ARE….!!!!!!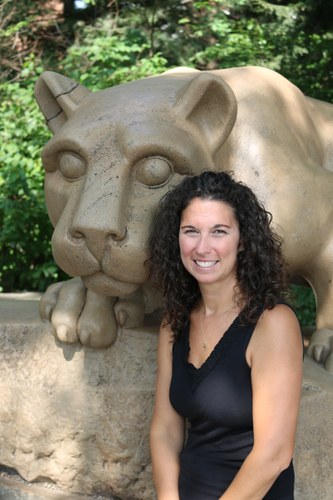 My undergraduate degree is from Penn State. I received a BFA in Theatre with a concentration in Stage Management and a minor in Dance. After working in the industry for a short period of time, I completed a Master of Science in Elementary Education at the University of Scranton. I am a certified teacher and have taught K-6 in both Pennsylvania and New Jersey. My favorite grade to teach was Kindergarten!
I have an extensive background in dance including Ballet, Tap, Jazz and Modern. I am a classically trained Ballet dancer and these days I enjoy teaching both children and adults. I performed in many classical ballets including over 100 performances of The Nutcracker. In 2015, I traded my ballet slippers for running shoes and I completed my first marathon in October 2017!
If I could do college over again or at least give advice to my younger self, I would tell myself to slow down and enjoy all that college has to offer. I went through college at hyper speed and didn't take advantage of all of the resources and opportunities that were available to me. I would study abroad at least once and participate in an internship. Also, I would make time to participate in the Dance team or some extracurricular sport. Though I loved my college experience, hindsight tells me that the real world would still have been waiting for me even if I slowed down and took time to engage in those opportunities. Of course, now I know they would have enhanced my experience and allowed me to enjoy it even more. I love that as an Academic Adviser I can use myself as an example to encourage my students to explore all that PSU has to offer and help to connect them with all the great opportunities available to them!
I love that my job gives me the opportunity to meet new people and learn about their interesting lives and goals. My students inspire me every day with their passions and impress me with their motivation, drive and accomplishments. I feel lucky to be able to play a part in their journeys and help them reach their academic goals.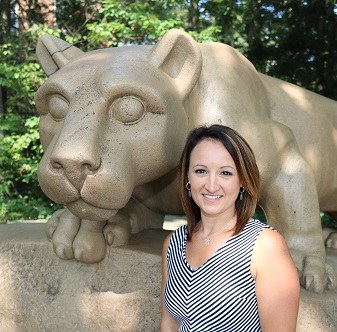 I started working as an adviser in the Pond Lab on September 7, 2019. I work with a host of majors (Political Science, International Politics, Social Data Analytics, CAS, Philosophy, African Studies and African American Studies) so stop by the Pond Lab to learn more. Before moving to advising, I worked at Penn State – University Park in Residence Life for 5 years. Prior to Penn State, I worked in Residence Life at my Alma Mater, York College of Pennsylvania for 4 years. I earned both my Bachelor's Degree in Sport Management (2008) and my Master's Degree in Educational Leadership (2014) from York College of Pennsylvania.
I am a huge sports fan and love supporting the Nittany Lions!! You may see me at various sporting events across campus so don't hesitate to stop by and say hi. I am also the Head Varsity Coach for Girls Basketball at Bellefonte Area High School. Coaching is a huge passion of mine and I am really excited to create a winning program in the local area!!
I earned my Bachelor's de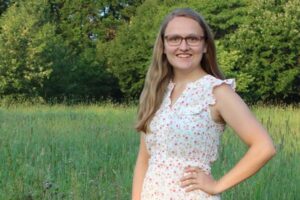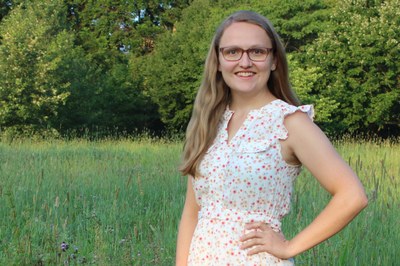 gree in Arts and Humanities from Michigan State University in 2016. After that, I worked in state government as a communications representative for the Michigan Department of Natural Resources. I started at Penn State in 2019 as a graduate student, where I had the opportunity to work with Adult Learner Programs and Services. I graduated with my M.Ed in Higher Education in 2021.  
My own undergraduate experience instilled in me the immense value of studying the liberal arts at a large, research institution. I truly believe it's the best of both worlds; students can access the vast array of opportunities Penn State provides, while still getting a tight-knit, personal classroom experience. To me, the chance to work as an academic adviser for the College of the Liberal Arts feels a lot like coming home. I am beyond excited to help others in their journey to become curious, critical, compassionate, and creative lifelong learners.  
On a more personal note, I grew up on a dairy farm in rural Michigan. I enjoy hiking, baking, reading, writing, spending time with my family, and hanging out with my two cats, Merry and Pippin. I dabble in music (flute and piano) as well as crochet. I am slowly building my at-home library. My favorite fictional worlds and stories include: Harry Potter, The Mortal Instruments, The Lord of the Rings and The Hobbit, anything by Jane Austen, Avatar: The Last Airbender, Downton Abbey, The Umbrella Academy, and the Good Place.