Associate Professor of Labor Studies and Employment Relations, and Political Science.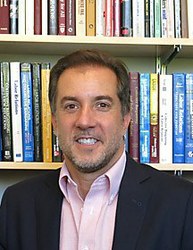 Education
Ph.D. in Government, Cornell University
Master's Degree, Latin American Studies, Stanford University
Professional Bio
Mark Anner is an Associate Professor of Labor and Employment Relations, and Political Science, and he is the Director of the Center for Global Workers' Rights. He also directs the School's Master's Program in Labor and Global Workers' Rights, which is a part of the Global Labour University network. He holds a Ph.D. in Government from Cornell University and a Master's Degree in Latin American Studies from Stanford University. Dr. Anner's current research examines how pricing and other sourcing dynamics in global supply chains affect working conditions and workers' rights. He has researched and written on international labor solidarity, labor law reform in Latin America, strikes in Vietnam, and corporate social responsibility in the global apparel industry. His field research has taken him to El Salvador, Honduras, Brazil, Vietnam, and Bangladesh. Before beginning his academic career, he lived in Latin America for eleven years where he worked with labor unions and a research center. And he has advised the international solidarity section of the Norwegian Trade Union Confederation.